Overview
Earn 8 live CE credits by attending this live-streaming CE event for all dental professionals, including dentists, hygienists, and assistants!
Only $99 for 8 CE (Less than $12.50 per CE)!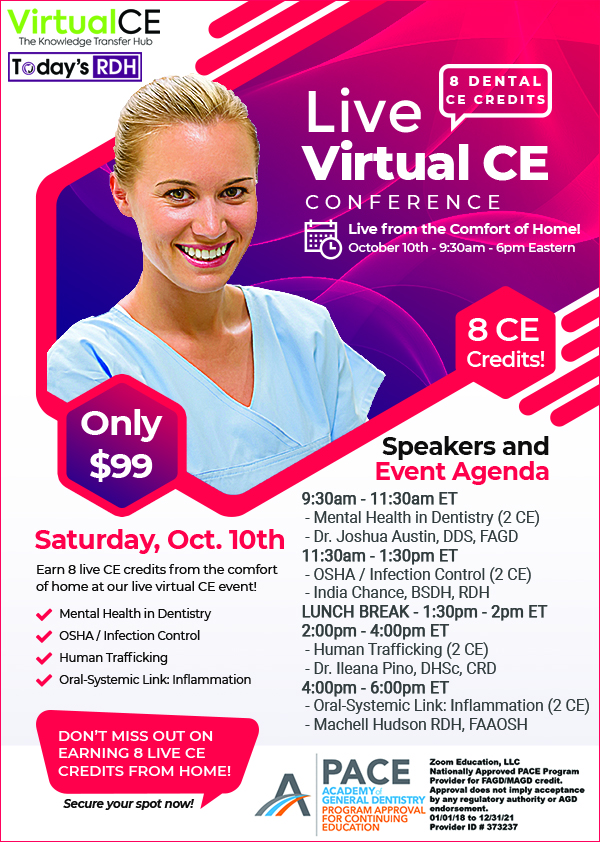 PLEASE PAY ATTENTION TO YOUR TIME ZONE!
The agenda in the flyer above and within your CE Zoom account are listed in Eastern Time.
Here are the times for the event by time zone:


Saturday, October 10th:
Eastern 9:30am - 6pm

Central 8:30am - 5pm

Mountain 7:30am - 4pm

Pacific/AZ 6:30am - 3pm



Register Now at the Top of this Page!
Information About the Event:

Date & Time: Saturday, October 10, 2020 from 9:30am - 6pm Eastern (8:30am - 5pm Central / 7:30am - 3pm Mountain / 6:30am - 2pm Pacific/Arizona)
Location: Online from the comfort of home
Topics: Mental Health in Dentistry, OSHA / Infection Control, Human Trafficking, Oral-System Link: Inflammation

Total CE Credits: 8 CE (all count as live credits because the course will be presented live and you will be able to interact with the speakers and ask questions.)
Price: $67 Early Bird through October 2nd, $99 Regular Price starting October 3rd.
Agenda:
Mental Health in Dentistry

by Dr. Joshua Austin, DDS, FAGD

(2 CE credits)


9:30am – 11:30am Eastern / 8:30am Central / 7:30am – 9:30am Mountain / 6:30am - 8:30am Pacific/AZ

OSHA / Infection Control

by India Chance, BSDH, RDH (2 CE credits)




11:30am - 1:30pm Eastern / 10:30am - 12:30pm Central / 9:30am - 11:30am Mountain / 8:30am - 10:30am Pacific

/AZ

HALF HOUR BREAK




1:30pm - 2pm Eastern / 12:30pm - 1pm Central / 11:30am - 12pm Mountain / 10:30am - 11am Pacific/AZ




Human Trafficking

by Dr. Ileana Pino, DHSc, CRD (2 CE credits)




2pm - 4pm Eastern / 1pm - 3pm Central / 12pm - 2pm Mountain / 11am - 1pm Pacific

/AZ

Oral-Systemic Link: Inflammation

by Machell Hudson, RDH, FAAOSH (2 CE credits)




4pm - 6pm Eastern / 3pm - 5pm Central / 2pm - 4pm Mountain / 1pm - 3pm Pacific

Register Now at the Top of this Page!
Frequently Asked Questions:


Do these CEs meet the requirements for my state?
Zoom Education is an AGD PACE provider that is recognized by all 50 states (including California), and according to AGD's guidelines, live, interactive, streaming events are considered a live CE as long as Q & A is offered at the end of each course. This event will be streamed live by Zoom Education, and the speakers will be available for Q & A after their presentation. All CE certificates issued will state this is a live event.

Are these CE courses considered "live" or "in-classroom?"
Yes, these courses are considered "live" and "in-classroom" and are recognized as such by AGD PACE because the presenters are presenting live (not pre-recorded) and will be available to answer questions from participants during and after their course presentation (i.e., "interacting with the presenter"). The certificate of completion (CE certificate) will state it was a live course.

Are these courses considered "clinical" or "core" classes?
These courses were selected because they are required by many states. To figure out if the courses are clinical or core, you need to check your specific state's Dental Practice Act, which gives the requirements and what is accepted. If you upgrade your CE Zoom account, it breaks down what courses you need per your state requirements.

Is this going to be offered any other days besides the day listed?
This event (courses/speaker lineup) will be live-streamed during the scheduled date and times only. It will not be available for replay, self-study, or on-demand.

What is CE Zoom, and is it related to Zoom conference calls?
CE Zoom is an online dental CE company that helps you track and manage your CEs, aiding you in what requirements your state mandates for license renewal. CE Zoom is NOT related to Zoom conference calls, and Zoom conference calls are not used as part of this event, so you don't need to worry about the security issues associated with Zoom conference calls. You can learn more about CE Zoom here: https://www.cezoom.com/

Is there a fee to sign-up with CE Zoom?
Professionals can utilize CE Zoom to search and register for events, check-in, verify courses, complete required surveys, and store/view/print ALL their CE certificates, including manual uploaded CEs (up-to 10GB storage) for no membership fee.





The Ultimate CE Tracker upgrade grants access to your state-specific CE requirements, guiding you with what your state requires for your license renewal, by individually tracking each CE according to your state's rules and regulations, taking into account minimum and maximum allowable CE hours, required approved providers, excluded courses, etc.





When will I receive an email with a link to log on?
CE Zoom will be emailing all registered attendees the links the night before the event and an hour before each course, but in case emails are delayed, you will be able to find all the connection information by viewing the course details in your CE Zoom account (links will not be available until the night before the event). Please note each course will have its own unique video streaming link.
How do I find the video conferencing links in CE Zoom?
To find these links, log into your CE Zoom account, and from the dashboard, click "view" to view the course information. Scroll down to "course notes" to see the link for that particular course. The links won't be available until the day before the event, so don't worry when you don't see them right away. They will be there the night before the event.
What is the latest to sign-up?
The latest to sign-up is an hour before the event or when it sells out.




Are there breaks?
Yes, there will be 10-minute breaks between each course, and there will be a half-hour long lunch break in the middle of the event. Please see the agenda for the times.
Do I have to sit and watch the whole thing?
Just like if you went to a dental conference and took CE courses, yes, it would be in your best interest to pay attention the whole time. If there are certain courses you don't want credit for, you can step away at those times. There will be breaks in between the courses and a lunch break. Please keep in mind, you must be logged in to each two-hour course for a minimum of one hour and 40 minutes per AGD PACE guidelines to receive CE credit.




What if I only want a couple of the courses being offered?
These courses are being sold as a package. If you prefer not to watch or take a certain course offered, you are free to step away during that time and come back for other courses during the day.
Will these courses be recorded and offered later


Because this is a live event, it can only be watched at the time listed.




Are there test questions at the end of each course?
No, there are not test questions, as these are live courses and not on-demand. There will be course evaluations for each course, however.
How do I get my certificate/proof of completion? Will it be emailed?
When you register for these courses, you will also register for a CE Zoom account. At the end of each course, you will be given a code that you will enter into your CE Zoom account to get your certificate of completion. This can take up to 72 hours for your attendance to be confirmed and your CE certificate to be released. Your certificate of completion will NOT be emailed to you; it will be in your CE Zoom account once CE Zoom verifies your attendance. Please note, you must be logged on to each course for at least one hour and 40 minutes per AGD PACE guidelines to receive CE credit. IMPORTANT: Be sure to write down the code for each course, or take a picture or screenshot of the code, as course codes cannot be given out after the course per AGD PACE guidelines.


Are there refunds?
No, there will be no refunds for this event. Please make sure that you can attend before purchasing, and you have a strong internet connection.




Are these courses only for hygienists, or can doctors and dental assistants receive CE too?
These courses can be taken by doctors, hygienists, and dental assistants for CE credit.
Can Canadians receive CE credit for these courses?
Canada recognizes CE Courses that have AGD PACE approved providers, so yes. However, we cannot guarantee, so we always recommend checking with your governing agency to confirm approval.
Can we sign-up as a group, or does everyone need to sign-up separately?
Each person who wants to receive CE credit needs to register and create their own CE Zoom account individually. This is because CE certificates are distributed into each persons' CE Zoom account with each persons' name, license number, etc.
Is there a cap on the number of attendees?
There is a cap of 5,000 attendees.




What is the processing fee for?
The processing fee is for utilizing the registration software/platform. It's like the fee charged when you use Eventbrite or Cvent when signing up for events.
Do I have to watch this on a laptop?
You can watch from any device with an internet connection or data, including laptops, desktops, tablets, or your smartphone.




What happens if I get disconnected?
Click on the link again and log back in on the same device with the same name and email. If you get disconnected again, try using a different device like a cell phone, but please make sure you are using the same name and email.
Are these CEs reported to CE Broker?
Not directly. Just like an in-person conference, the certificate needs to be manually submitted to CE Broker. To do this, print out the certificate from CE Zoom and then upload it to CE Broker.




Why is this event on the weekend?
Before we organize these live CE events, we put out a survey. We, not only base which courses are being offered on the feedback, but also the day of the week most people prefer. The overwhelming majority stated they preferred a Saturday. Though we try, we simply cannot please everyone.
Why aren't these CE courses free?
To offer CE courses at no cost, we would need to have sponsors (i.e., manufacturers/companies pay for our expenses), and this event is completely non-sponsored. There are costs for putting on events like this; an IT team to ensure the event runs smoothly, speaker compensation, software costs, etc., all while being mindful money is tight for people right now. For those who had in-person events canceled and are unable to obtain live CE events, this is still much cheaper than what people had paid for the canceled events.




Can the course presenters hear or see me?
No, the speakers can't see or hear you. You interact with them through a live chat.
Register Now
at the Top of this Page!

Date / Time
Sat, Oct 10, 2020
Location
Online
Tuition
$67 Early Bird - $99 Regular