Overview
Please note your TIME ZONE!
This Course is a Live Webinar and will be live-streamed:
12:00 pm ET, 11:00 am CT, 10:00 am MT, 9:00 am AZ, 9:00 am PT
Course Description:
This is an exciting time to be a dental health professional as dentistry and dental hygiene are both growing as medical specialties. As our understanding of the multiple links between the mouth and the body has increased, our roles have expanded to include awareness of and focus on the whole health of our patients.
Traditionally, dental health care practitioners have not approached dental disease in the same way that medical doctors approach systemic diseases. There is much to be gained by adopting certain medical strategies, such as performing risk assessment, seeking the root cause, employing laboratory testing, and utilizing wound care protocols, into our routine dental care.
We must try to unravel the complex interactions between host susceptibility, immune response, genetic associations, behavioral components, and disease control.
As knowledge of the oral-systemic connections has become widely understood and accepted, the next step is to integrate that knowledge into practical clinical protocols. It's time to elevate our identities as healthcare practitioners in this new age of integrated medicine and dentistry.
After completion of this course, you will:
1. Discover four tenants of medical management of periodontal disease: risk assessment, root cause, laboratory testing, and wound care
2. Illuminate the significance and challenges of oral biofilm
3. Explore leading-edge
practices to integrate medical protocols into dental routines efficiently and effectively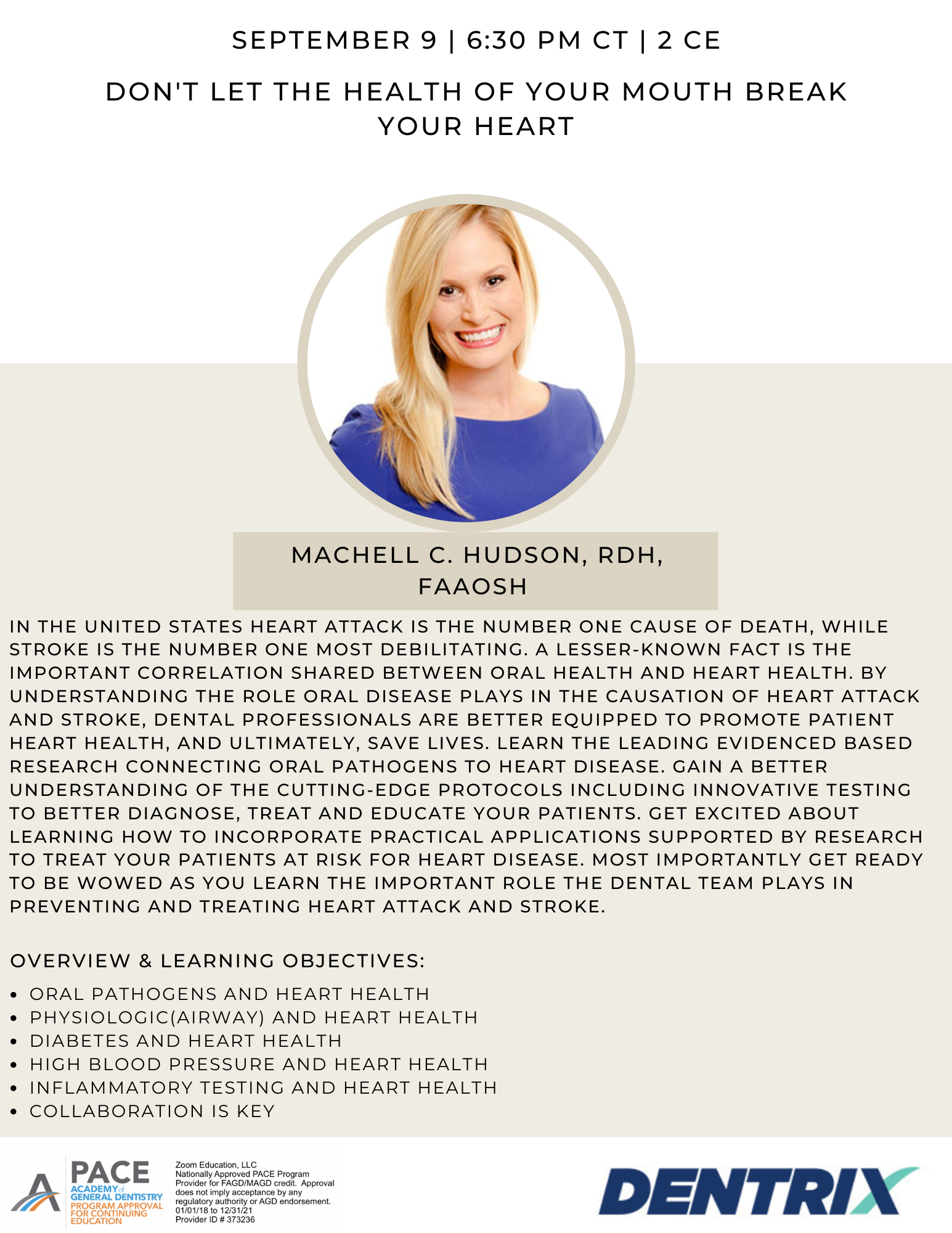 This activity has been planned and implemented in accordance with the standards of the Academy of General Dentistry Program Approval for Continuing Education (PACE) through the joint program provider approval of Zoom Education, LLC and, Oral BioTech. Zoom Education, LLC is approved for awarding FAGD/MAGD credit.
Course Contact:
jwolfenbarger@oralbiotech.com
Course Categories:
Clinical Dentistry Subjects That Relate Directly to Patient Care and Clinical Dentistry,Courses Approved for Dentists,Periodontics (Diagnosis, Treatment (surgical/non-surgical), Maintenance, Scaling / Instrumentation, Supportive Perio Therapies),Oral Health Diagnosis & Treatment Planning,General Dentistry / Corrective and Restorative Oral Health Procedures,Dental Hygiene Courses / Services,Courses in Dentistry
Provider Approval:
Nationally Recognized (AGD-PACE) Academy of General Dentistry Program approval for Continuing Education
Educational Type:
Live
Educational Method:
Lecture
Prerequisites :
N/A
Sponsor(s):
None
Conflict of Interest Disclosure:
None
All CE Zoom related support:
support.cezoom.com
Date / Time
Tue, May 18, 2021: 09:00 AM - 10:00 AM PT
Location
Online
Tuition
Free