Overview
Please note your TIME ZONE!
This Course is a Live Webinar and will be live-streamed:
7:00 pm ET, 6:00 pm CT, 5:00 pm MT, 5:00 pm AZ, 4:00 pm PT
What makes one dental practice stand out above the others?
What makes a practice have
incredible patient loyalty and get tons of referrals? What makes a dentist have higher treatment
plan acceptance and more profits? Unfortunately it has nothing to do with your fees, the quality of the materials you use, your
crown margins, or even owning the latest high-tech gadgetry.
It's been shown time and time again that the top practices are the ones that know how to provide an incredible patient experience.
Believe it or not, there are some very simple things that you can do right now to produce an incredible experience in YOUR practice - things that can be done by just about any dentist in just about any town! In this brand-new course - "Ten Simple Ways to Create an Incredibly Memorable Patient Experience!" - you will learn at least ten fantastic, simple, and in most cases free ways to make your patients say....
"Wow! I've never been to a practice like that before!"
We'll learn things like:
 How to use "The Power of Reciprocity" to increase patient referrals!
 Why "The Blue Sheet" will have people saying great things about your practice!
 The absolute BEST thing to do after treatment. It takes thirty seconds and will blow your
patients away!
 Add this simple "trick" to your exam and watch treatment acceptance soar!
If you are finally ready for more patient loyalty, more referrals, more trust, more income, and
more fun – don't miss this course!
1) Attendees will learn techniques for memorable patient experiences in order to enhance
the success of the practice.
2) Participants will be shown the proper way to discuss treatment needs with patients in
order to increase treatment plan acceptance rate.
3) We will learn the importance of customer service and how it relates to increasing
practice revenues.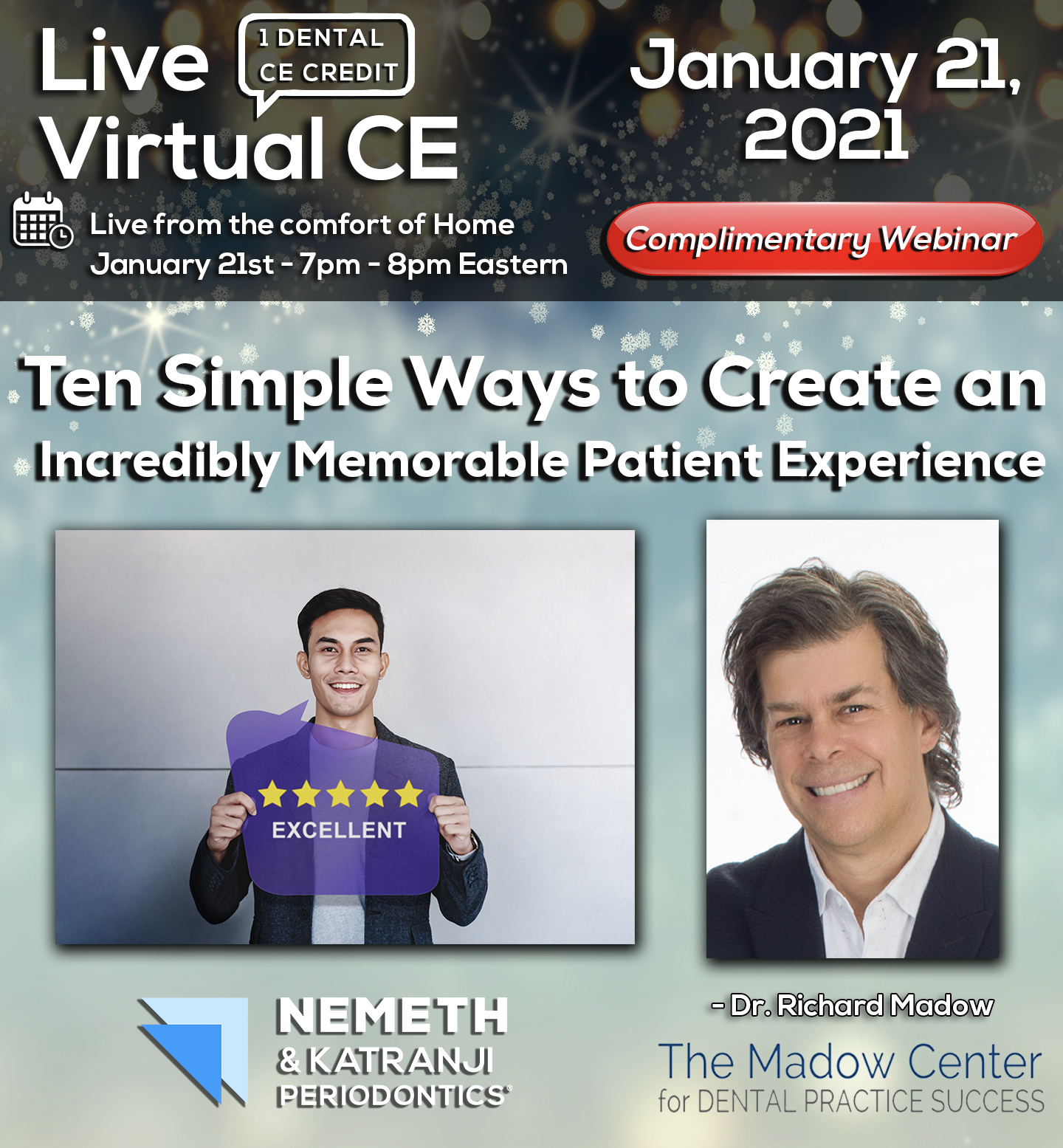 Course Contact:
info@drnemeth.com
Course Categories:
Standards of Practice,Clinical Dentistry Subjects That Relate Directly to Patient Care and Clinical Dentistry,Behavioral Sciences (Guidance, Management, Modifications),Patient Relations, Communications, Management,Practice Building / Marketing,Business / Practice Administration Management and Improvement (Dental Related),Dental Practice Management / Organization / Operations
Provider Approval:
Michigan Only - (AGD-PACE) Academy of General Dentistry Program approval for Continuing Education
Educational Type:
Live
Educational Method:
Discussion
Prerequisites :
NA
Sponsor(s):
None
Conflict of Interest Disclosure:
None
All CE Zoom related support:
support.cezoom.com
Date / Time
Thu, Jan 21, 2021: 07:00 PM - 08:00 PM ET
Location
Online
Tuition
0