Overview
THIS COURSE IS AVAILABLE IN PERSON AND VIRTUALLY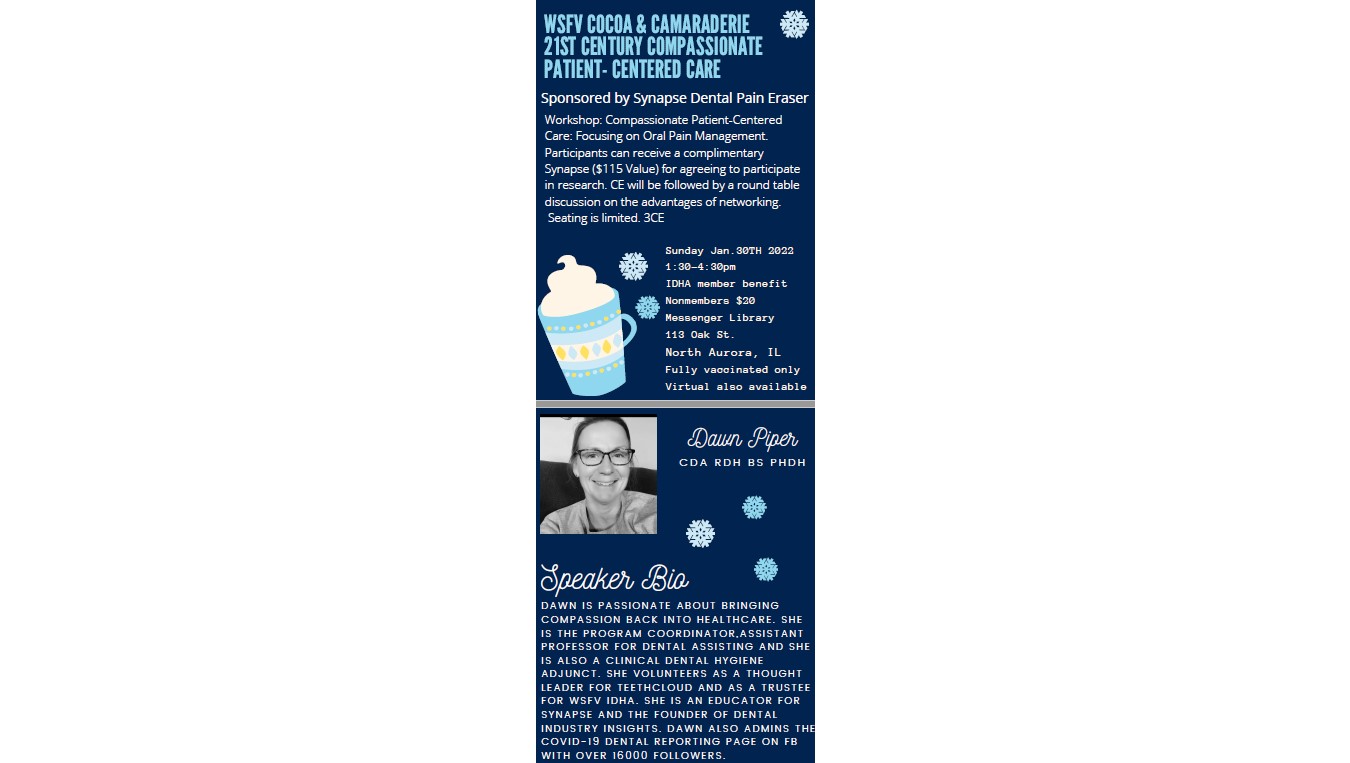 Workshop Description: This course will emphasize the theoretical and practical implementation of compassionate patient-centered care with regard to oral pain management. Participants will complete a pre-workshop survey and live polls. Participants who agree to take part in a study of the Synapse dental pain eraser will also complete post-workshop surveys. The workshop will be followed by a roundtable
discussion.
Objectives:
1. Define healthcare\'s compassion crisis and its effects on patients and healthcare professionals.
2. List the reasons why people avoid seeking dental care and explain the difference between needle fear and needle phobia and how they are treated.
3. Discuss how to avoid patients\' accusing you of being too rough.
4. Compare the advantages and disadvantages of available pain management products for in-office and home use.
Please email wbstrs165@gmail.com if you would like to attend this course virtually, and a link will be sent to you before the event.
Course Contact:
wbstrs165@gmail.com
Course Categories:
Management and the Treatment of Pain
Provider Approval:
A person, firm or association approved by Section 1220.140 & 1220.250 of Illinois http://www.ilga.gov/commission/jcar/admincode/068/068012200A01400R.html
Educational Type:
Live
Educational Method:
Lecture
Prerequisites :
If you will be attending in person, you will need to provide your full COVID vaccination record (including the booster) before the event.
Sponsor(s) :
Synapse Dental Pain Eraser
Conflict of Interest Disclosure:
Affiliated and/or Associated with Synapse Dental Pain Eraser
All CE Zoom related support:
support.cezoom.com
Date / Time
Sun, Jan 30, 2022: 01:30 PM - 04:30 PM CT
Location
113 Oak St
North Aurora, IL
Tuition
Free for Members, $20 for Potential Members