Overview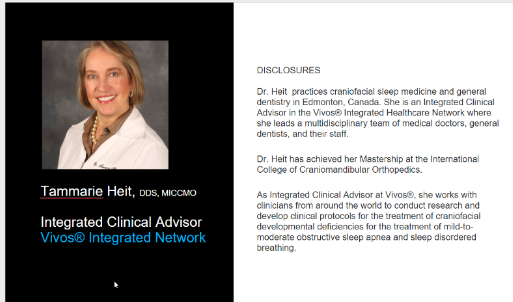 What is craniofacial sleep medicine?
Explore the root cause of sleep-disordered breathing including obstructive sleep apnea, a condition that affects hundreds of your patients. Receive an introduction to the most recent discoveries that are guiding the evolution of this important field in modern dentistry.
Learn how advanced treatment modalities in craniofacial sleep medicine in dentistry, including biomimetics and Pneumopedics®, are delivering hope for lasting resolution for patients suffering from sleep and breathing disorders and related comorbidities.
Vivos is registered, with the FDA, as a Specification Developer
Vivos mRNA (Mandibular Repositioning Nightime Appliance): FDA CLEARED as a Class 2 appliance; cleared for the treatment of adult patients diagnosed with mild to moderate sleep apnea, snoring and sleep-disordered breathing.
Vivos DNA (Daytime Nightime Appliance): FDA REGISTERED as a Class 1 appliance for palatal expansion
Vivos Guide Series (VStarter, VGrow, VWay): FDA REGISTERED as Class 1 appliances for teeth straightening
Any use of the Vivos appliances outside of or "off label" from the FDA Cleared and/or Registered Indication(s) for use is the sole responsibility of the treating dentist at her/his clinical discretion and is not the teachings, guidelines, or recommendation of Vivos Therapuetics, Inc. Vivos Therapeutics, Inc. does not have products to treat children diagnosed with sleep disordered breathing
"This presentation is intended for educational purposes only. Statements of facts and opinions expressed are those of the educator/doctor individually, and unless expressly stated to the contrary, are not the opinion of the course sponsor, Vivos Therapeutics, Inc."
Vivos Therapeutics, Inc. is approved by AGD / PACE to issue CE credits to any individuals that attend our CE programs. Whether or not the credits will be accepted by the licensing / regulatory bodies across the World is up to those regulatory bodies.


Date / Time
Wed, Oct 6, 2021
Location
Online
Tuition
Promo Code